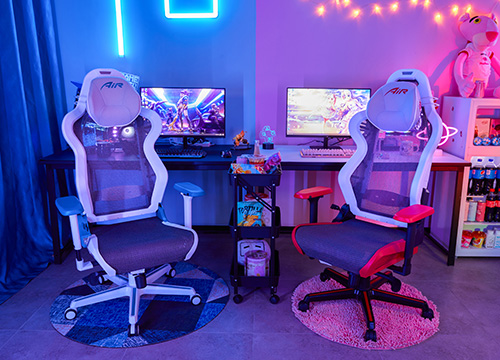 Online gaming introduces us to a whole new realm of fun. Gaming is a place where we can escape from the pressures and anxieties of real life. It's also a great opportunity to spend time with our lovers, many of whom have the same passion for gaming as we do. If you're couples who enjoy playing games together, you're more likely to spend more time together both online and offline. The Couples gaming setup can be optimized with the following suggestions.

Maintain Personal Space
When planning a game station for couples, it's crucial to think about the layout. There should be enough room for both of you to play without feeling crowded. How far apart do you prefer to sit? A U-shaped or L-shaped desk may help you share your Pixio gaming monitor and other devices without feeling cramped, if that's what you're looking for. If you don't want to sit too close together, a long desk with two gaming stations is great.

Spend Money on Technology
Technology is the key to an extraordinary gaming experience. In other words, technology plays a significant role in the way that we all enjoy playing video games in the modern era and a fantastic gaming setup for a couple is impossible without the aid of modern technologies. Your gaming experience will be much enhanced if you have a pair of those basic wireless headsets or adjustable TV stands.

Enjoy Comfort Together
Gamers can't enjoy themselves if they're not comfortable. To keep up with a nice game, you need to be proficient with your mouse and keyboard. To be able to sit for long periods of time, you need a chair that is both supportive and comfortable for extended periods of time. Regardless of of what privacy settings you choose, you need to feel at ease with them. It's fantastic to have a gaming setup for couples.

Adjust Your Lights
It's not uncommon for gaming rooms to be lighted with only a few lamps. Playing in the dark is preferred by some, while others like to keep the lights on. When it comes to lighting, you may have different preferences, so it is advisable to discuss it and find a compromise.
Having a specific color (or perhaps multicolored designs) will add personality to your gaming area. Depending on the type of game you're playing and the desired atmosphere, LED strips, overhead lighting, and disco lights can all be beneficial in gaming rooms.

Find Personalized Ornament
It's important to pay attention to the details if you want your gaming area to truly feel like a home. Decorations can be obtained from a variety of offline and online merchants, making it simple to construct designs based on a theme. Additionally, it helps to keep the distinctiveness of each of your settings and makes them more personalized to your preferences. We recommend adding posters, artworks, or pictures to customize the space. Remember to keep a clean and individualized concept in mind, get the layout done and avoid overdecorating to detract from fun and games.

Get Closer to the Refrigerator
If you still have room in your game room for a small fridge, bring the refrigerator a little bit close. Because if you play video games for long stretches of time, you will run the risk of becoming hungry, hypoglycemic and dehydrated. To maintain a healthy lifestyle, proper hydration and sugar are also quite important.